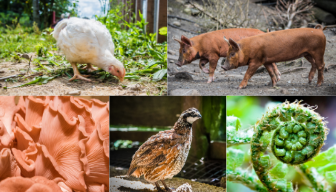 The Resiliency of the Local Food System
Dave Kranenburg
This is our 4th season of reviving the farm that Emily grew up on.
We entered 2020 feeling that we had really hit our stride as farmers.  Growing beautiful food that enough people at markets and enough chefs respected that we could make a living out of this.  Along the way, we've become friends with our neighbours at farmers' markets and consider ourselves lucky to enjoy their products which is some of the best food that's being grown in Ontario.
However, our dependency on farmers markets and restaurants, and the same dependency of our farmer and artisan friends, is exposing the potential fragility of our local food system.  Without these, how do small farms get their food to people?
Just as farmers market emerged from farmers working together, we're all figuring out new ways of working together so that the food we all work so hard in growing can find its way to you.  And so the seeds of ideas from brief conversations at markets and conferences are being sown.
One idea that we'll be bringing to life is that we're expanding our online store to include products from our farmer and artisan friends...turning it into a sort of 
virtual farmers market
 with 
FREE, no-contact home delivery.
We'll be adding cheese from Monforte Dairy, coffee from Happenstance Bakery & Roastery, maple syrup & preserves from Spade & Spoon, root vegetables from Wheelbarrow Farm, micro-greens from the Little Farm that Could, and much more as we hear back from our friends.
Our first delivery
 

to Toronto is this Thursday and locally it's this Sunday.  
If you'd like to order for Toronto delivery, please do so by noon on Wednesday.  Please know that not all items the I just mentioned are listed yet and we ask that you be patient with us as all of a sudden we are running a grocery store?  Dave works fast, but he needs a little bit of time to get everything setup properly.  :)
Farmers that are dedicated to working with nature have had the best teacher when it comes to resiliency.
Thank you for supporting small, local farms during this time.
Stay healthy & stay positive,
Dave & Emily