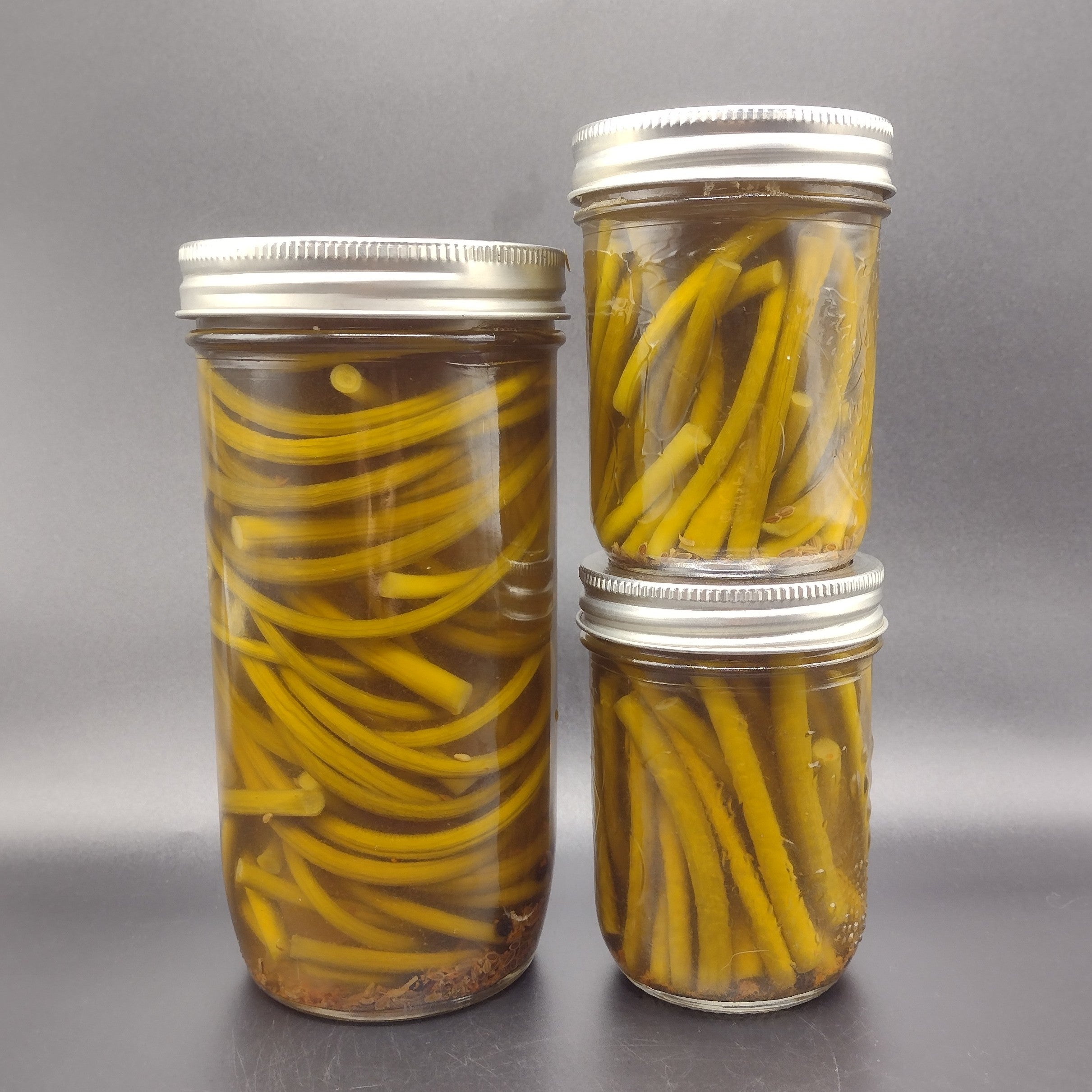 Recipe - Pickled Garlic Scapes
Tina Stapper
Garlic scapes are harvested before the bulb of garlic is ready to harvest, to allow plant to focus all of its energy and nutrients on forming a larger bulb. They are a very seasonal delicacy, only available fresh for a very short time every summer!

We work with farmers Marchand & Corin of Garlicloves, who grow thousands of garlic bulbs (several varieties) in Haliburton and Kawartha Lakes. We are lucky to have access to so many scapes, but because they are only around for a couple of weeks, we do our best to preserve them to use year round. Pickled scapes are great on burgers, on a charcuterie board, to garnish a caesar, in potato salad, or sandwiches. Here is a easy canning recipe, allowing shelf-stable storage for up to a year.

Ingredients:
454g garlic scapes

1tbsp dill seeds

1tsp black peppercorn

1-2tsp chili flakes

2.5 tbsp pickling salt

2 cups apple cider vinegar
Method:

Start your water bath to process the jars - this may take a while to begin boiling. You can use a large stockpot if you don't have a canner, just make sure that there will be at least two inches of water above your jars once they are submerged. You will also need a rack at the bottom of your pot to make sure the jars are not resting on the heat.

Sterilize the mason jars you intend to use. Regular 250ml jars are great if you chop the scapes into 2-3 inch pieces, otherwise wide-mouth 500ml or 750ml jars are ideal.


Trim the cut ends of the scapes. It's okay to leave the blossoms attached, but some prefer to save these to use fresh in salads.

Mix the apple cider vinegar with the pickling salt and 2 cups of water in a small pot. Bring to a boil and stir to make sure the salt dissolves.

Pack the jars tight with the scapes, leaving about a half inch from the lip of the jar.

Mix the dill, peppercorn and chili flakes, and divide them evenly among the packed jars.

Pour the hot vinegar salt mixture into the jars, so that the scapes are covered and there is about a quarter inch from the lip of the jar.

Cover with new canning lids, and place in the boiling water bath. Allow to boil for 10-15 minutes.

Remove the jars from the water bath and place them on a rack or dish towel to cool down. You should hear the lids 'pop' closed, letting you know that they are sealed.

Allow your pickled scapes to cure for at least a month for the best flavour. Make sure to refrigerate after opening.