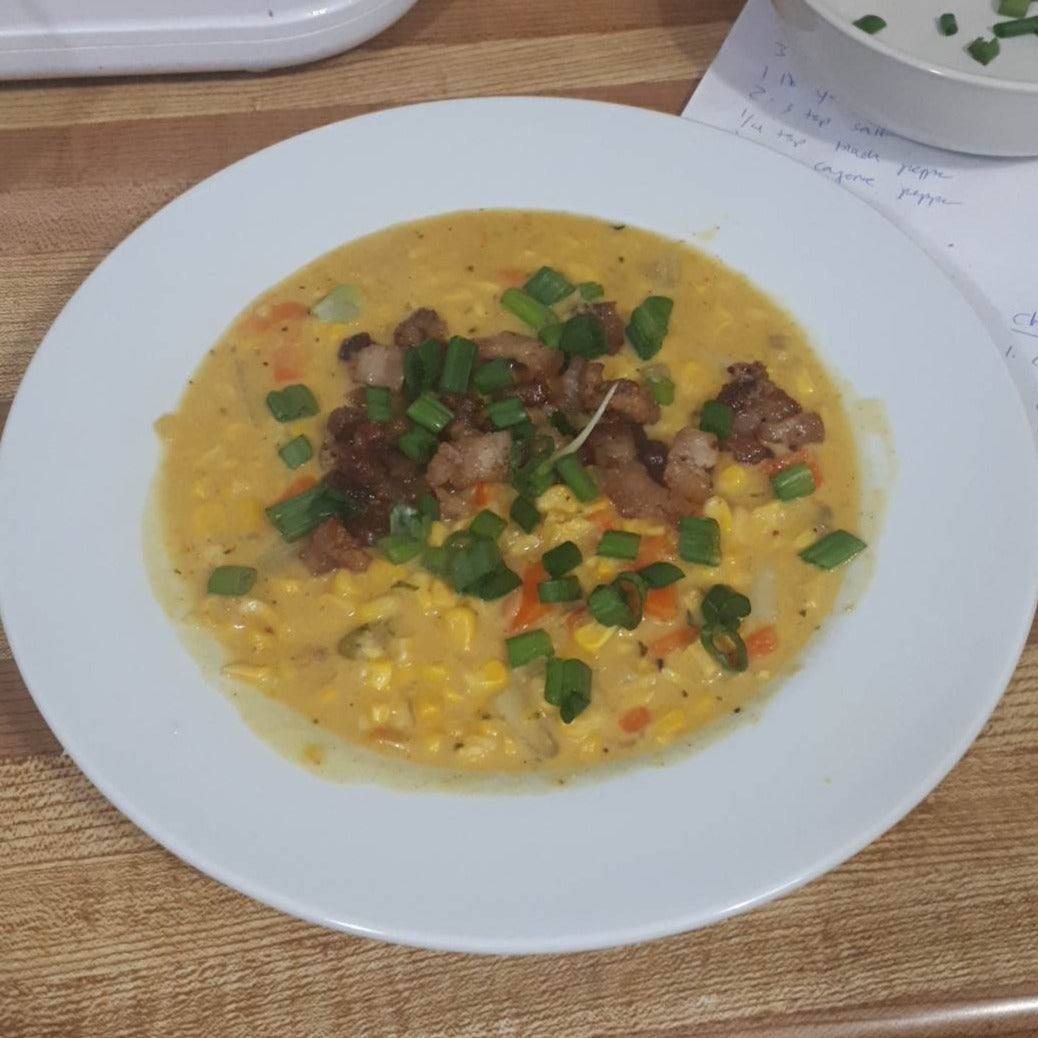 Corn Chowder with Homemade Corn Stock
Brooke McArthur
This corn chowder is hearty, filling, and a tasty way to showcase the bounty of corn season...local sweet corn is the shining star of this dish. To really enhance the corn flavour (and to use up the whole corn cob!), use the corn stock from this recipe found here.
This chowder is super versatile and can be changed up in flavours and textures. It can be made using chicken broth, but can also be made using corn stock to really enhance the corn flavour. 
Corn Stock Ingredients:
-4 cups corn stock (can also use chicken broth)
-1 1/2 cups milk
-1 cup heavy cream (35%)
Chowder Ingredients:
-4 cups corn kernels (4-5 ears corn)- fresh is always preferred, but frozen (thawed) or canned corn works as well. The texture will be slightly softer and the flavour more subtle.
-4 oz (4 slices) bacon, chopped (but I tend to use the whole 350 g package of bacon for the grease content)
-1 large onion, finely diced (1 1/2 cup)
-1 large carrot, cut into 1/4" dice (1 cup)
-3 stalks celery, finely diced (1 cup)
-garlic, 3-5 cloves minced (or to taste)
-1 lb Yukon Gold potatoes (3 medium), peeled & chopped- you can use literally any potato, but this variety is more waxy and tends to hold its shape even when boiled, so you can get chunks of potato in each bite. A less waxy and more floury textured variety will have less potato bite, but will help to thicken your chowder with its natural starch content, so it's really about what you would prefer. 
-salt, 2-3 tsp (or to taste)
-1/4 tsp black pepper (or to taste)
-1/4 tsp cayenne pepper (or to taste)
-1/4 tsp turmeric, ground (or to taste)
-1/4 tsp chili powder (or to taste)
-cornstarch, 1-3 tbsp
-chives, or green onion, chopped
OPTIONAL:
-mushrooms (shiitake or blue oyster), chopped
-butter, 1-2 tbsp
Method:
1. If using fresh corn, boil the cobs until the kernels are soft. Once cool enough to handle, cut off the kernels and use the cobs to make the corn stock for this recipe. Set the kernels aside. 
PRO-TIP: Get the corn stock simmering now to be used later in this recipe.
2. In a stock pot, sautee chopped bacon until crispy and the fat is rendered out. Using a slotted spoon, remove the bacon, leaving the grease.
3. Add in the chopped carrots, onions, celery, and garlic to the bacon grease. Sautee at a low-medium heat until the carrots start to go soft. OPTIONAL: if adding butter and/or mushrooms, add them in now.
4. While the vegetables are sauteeing, in a separate pot combine milk, cream, and corn stock on low-medium heat to start reducing and thickening the dairy.
5. To the vegetable pot, add sliced potatoes, corn kernels, salt, black pepper, cayenne pepper, chili powder, ground turmeric, and ground cumin. Stir for 1 minute, then add in creamy corn stock mixture. Bring to a light boil, then simmer uncovered for 10-15 minutes, or until the potatoes are tender.
PRO-TIP: to ensure the potatoes cook all the way through, lightly boil them in a separate pot until they start to go tender, and then add in to the chowder near the end. 
PRO-TIP: I like to add in cornstarch before simmering for 10-15 minutes (about 1-3 tablespoons, depending on how liquid the mixture is. You can add more cornstarch towards the end if the chowder is not thick enough for your liking. I tend to like it a little thicker).
5. Take off the heat, ladle into bowls, and garnish with the cooked bacon and chopped chives or chopped green onion. We also like a dollop of sour cream on top.
PRO-TIP: for a creamier consistency, transfer 1/4 of the chowder to a blender and blend until smooth, then stir back into the rest of the chowder.
NOTES: I also make a spicier version using fresh jalapenos, or chili flakes, for even more flavour. Take this recipe and customize it to your tastes, you'll be glad you did!