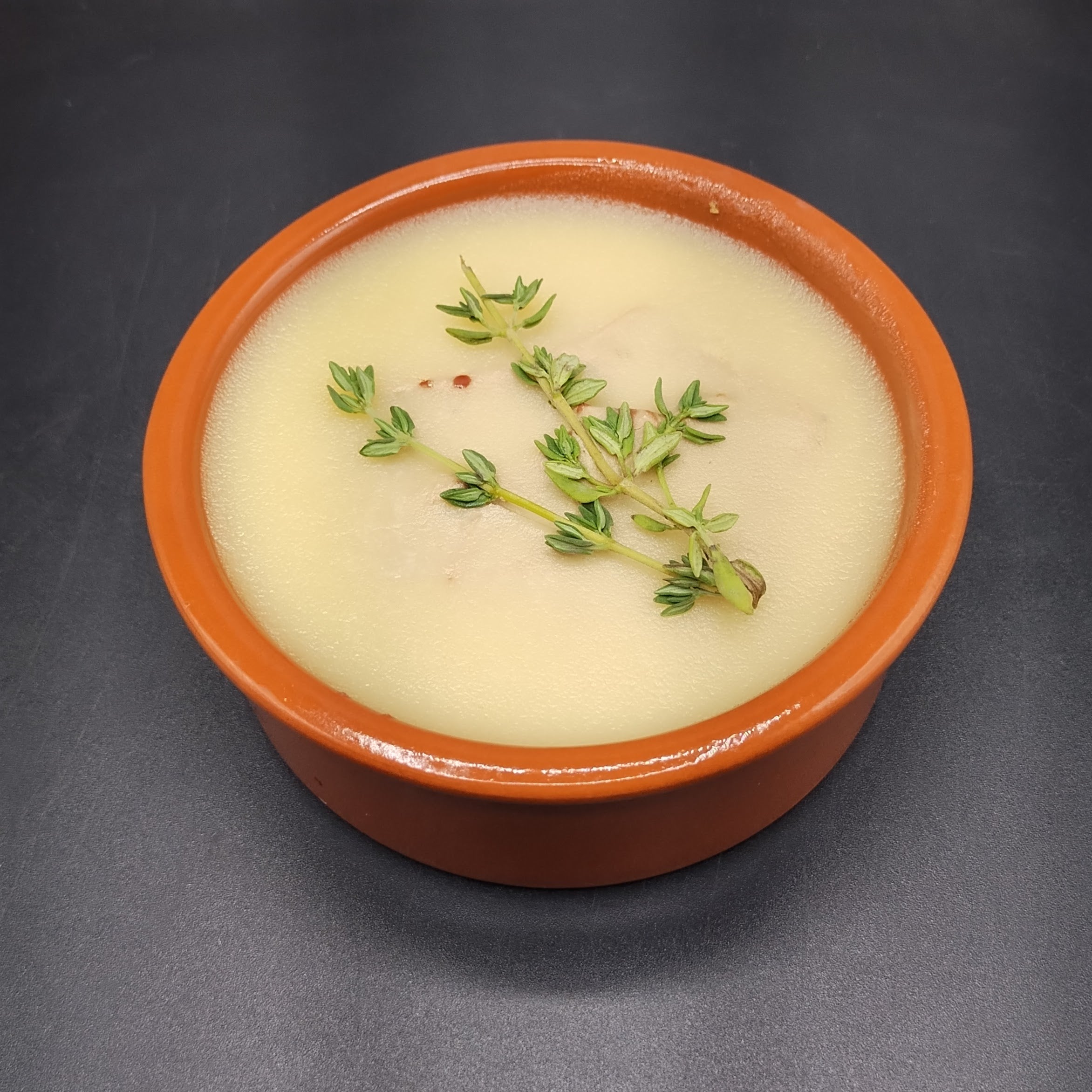 Jacques Pépin's Chicken Liver Pate
Tina Stapper
You can find this recipe nearly anywhere, but making it with pastured chicken livers and locally grown vegetables from farmers you know by name really makes it something special.
This recipe makes 2-4 ramekins, serving about 6-8 people. It can be doubled or quadrupled (chicken livers often come in 2lb bags, frozen), and the pate can be frozen for up to 3 months for the best flavour and texture.
Ingredients:

chicken livers, ~227g, trimmed of the connective tissue
blush, or French Rose onion, ~1/4, sliced thinly
garlic, ~1-2 small cloves
bay leaf, 1 leaf
thyme, 1tsp fresh, or 1/4tsp dried
kosher salt, 1/2tsp plus more to taste
butter, ~170g room temperature
cognac or brandy, 10ml or 2tsp (optional but recommended)
black pepper to taste
schmaltz for capping (optional)
baguette for serving
Directions:
1. Add trimmed livers, onion, garlic, bay leaf, thyme, 1/2tsp salt to a saucepan. Pour over about a 1/2 cup water, and bring to a simmer on the stove.
2. Once simmering, reduce heat to low, and stir for about 3-5 minutes, until livers are nearly cooked through. Then cover and remove from heat, allow to cool for 5-10 minutes.
3. Use a slotted spoon to remove the livers, onions and garlic from the pan, (discard bay leaf) and transfer to a food processor. Pulse until coarsely ground.
4. Add butter to the livers mix, pulsing to incorporate a pat or two at a time. Then pour in cognac, season with salt and pepper, and process until smooth.
5. Use a spatula to fill ramekins with the pate, it should fill two to four, depending on the size of your ramekins. Do your best to prevent air pockets, and maintain a flat surface. Optional step: Cover pate with a layer of schmaltz to prevent oxidizing, discolouring, and to help retain flavour and add smoothness and richness to the pate if storing for a long period of time.
6. Cover with plastic wrap, pressing right to the surface and refrigerate for at least 2 hours before serving chilled. If freezing, you can add a layer of aluminum foil, and put in freezer after allowing the pate to set in the fridge. If serving from frozen allow to defrost in the fridge over night or on the counter for an hour or two.
 This is they yield from quadrupling the recipe and processing 2lbs of livers! (There wasn't enough schmaltz to cap all of the ramekins)