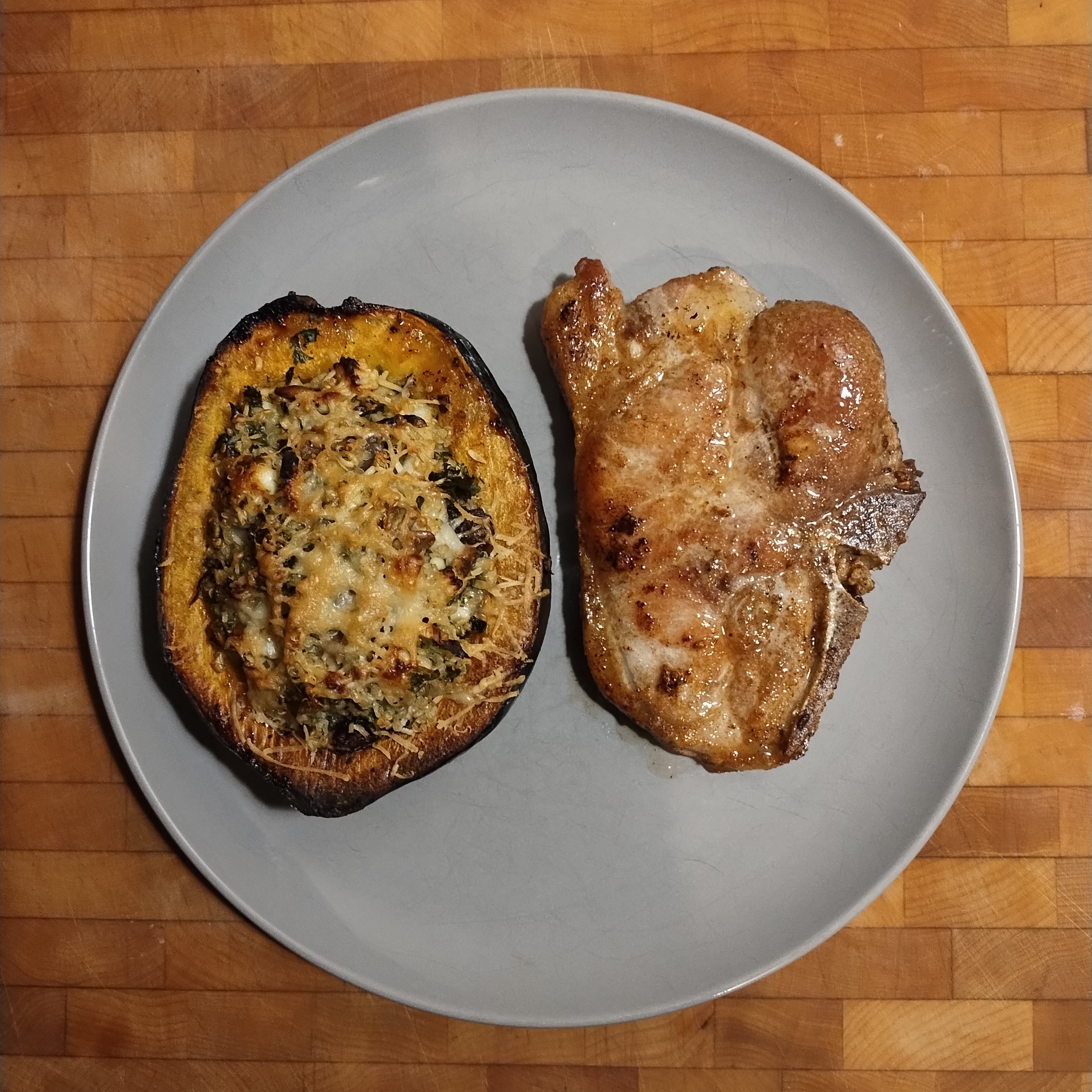 Stuffed Acorn Squash
Tina Stapper
A super versatile dish that can be a main course or side-dish!
Acorn squash (and similar varieties) can be stuffed with almost any combination of grains, vegetables, fruit, nuts and seeds (which add a nice crunch). This recipe includes fennel, apple, and red onion for a bit of sweetness and spice that really lightens up the rich squash.
It pairs well with white meats like pork and chicken, but it also holds up well as a main, since quinoa is a complete protein!
Ingredients:
1 acorn squash
1/4 cup quinoa (about a 1/2 cup cooked)
1/3 cup parsley, finely chopped and/or
1-3 kale leaves, finely chopped (can also use chard)
1/2 cup fennel, sliced thinly
1/2 an apple, peeled, cored and diced
1/4 cup red onion, diced
1/4 cup cheese of your choice (we like feta and parmesan for this)
salt, pepper, and olive oil
optional:
pumpkin seeds, toasted
dried cranberries
Directions:
Preheat oven to 400F. Halve the acorn squash lengthwise, and scoop out the seeds. You may need to slice a small amount of the skin on the outside of each half, to make sure it sits steady as a "bowl".
Rub olive oil on the entire inside surface of the squash, and season generously with salt and pepper.
Place cut-side-down on a baking tray lined with parchment paper and roast for about 40 minutes.
While the squash roasts, cook the quinoa and toast the pumpkin seeds (if using).
Sautee the red onion and fennel until cooked through, add the apple to cook for a few minutes. If adding kale, add it at the same time as the apple. If using parsley, mix it in with the sauteed vegetables after they are removed from the heat.
Add the quinoa to the sauteed vegetables, and toss in the cubed or grated cheese, reserving some to top the squash. Add the pumpkin seeds and dried cranberries if you are using them.
Once squash is cooked through (easily pierced with a fork), flip them over on the pan and spoon the vegetable quinoa mix into the two halves evenly, and top with the remaining cheese.
Bake the stuffed squash for another 10-15 minutes, until the edges have some colour and the cheese has melted.