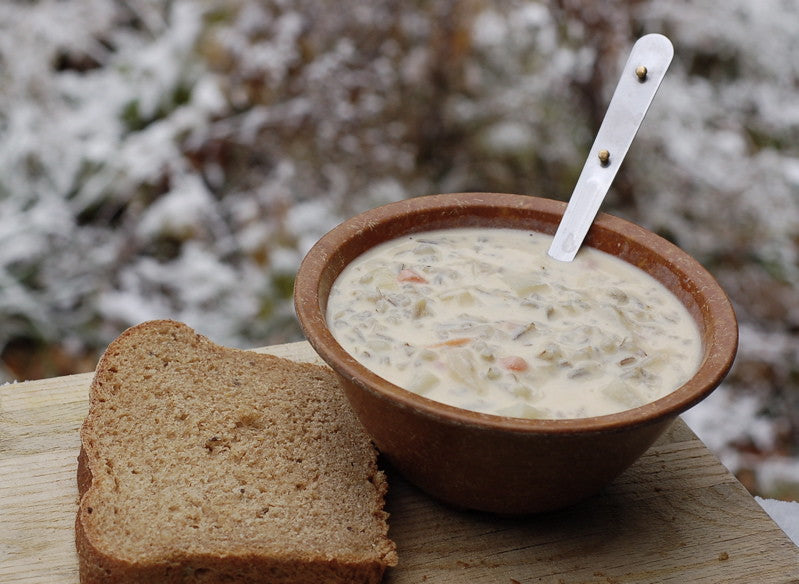 Creamy Wild Rice and Chicken Soup
Brooke McArthur
Ingredients:
-chicken parts (thigh, breast, etc)- can also use duck (enough for 4 cups worth of bite-sized pieces)
-wild rice (broken or whole, both work), 1 cup (5 ounces)
-4 tablespoons unsalted butter
-3 celery stalks, cut into 1/2 inch pieces
-2 carrots, cut into 1/2 inch pieces
-1 medium onion, chopped
-2 garlic cloves, minced (or to taste)
-1 1/2 tsp finely chopped thyme (or your favourite savoury herb, like sage or summer savoury)
-salt (to taste)
-ground black pepper (to taste)
-1/4 cup all-purpose flour
-2 quarts chicken stock, or broth (find a recipe for homemade chicken stock here!)
-2 cups water
-1 cup heavy cream
OPTIONAL:
mushrooms (crimini, shiitake, blue oyster)- 1 cup- or 1/4 cup dried mushrooms
dried herbs (simmer blend, sage, thyme)
Method:
1. Roast your chosen chicken parts until cooked. Set aside to let cool. 
2. In a saucepan or pot, melt butter on medium heat. Once melted, add in celery, carrots, onion, garlic, salt, and pepper. Sautee on medium heat for 10 mins, or until softerned.
OPTIONAL: if adding in mushrooms and/or dried herbs, add them in now.
3. Pour the flour over the vegetable mixture, and cook for 3 minutes, stirring the flour into the vegetables to coat them. 
3. Add in the wild rice, and slowly stir in the stock/broth and water. Bring to a boil, and simmer over low-medium heat stirring occasionally until the vegetables are tender, about 30 mins.
4. Add in the chicken pieces and simmer, stirring until the rice is tender, about another 10-15 minutes.
5. Stir in the heavy cream and season with salt and pepper. Serve.