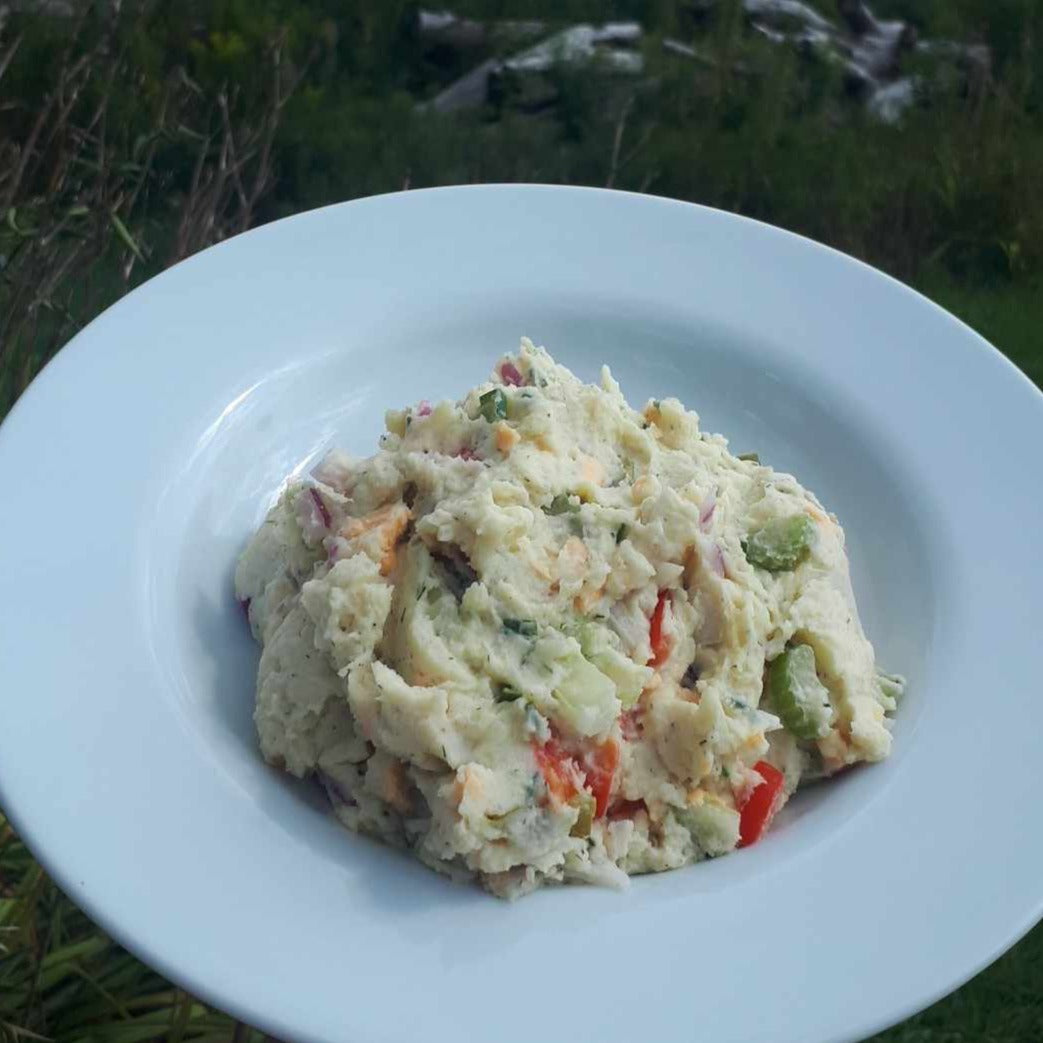 Dilly Potato Salad
Brooke McArthur
Ingredients:
-potatoes, 3 lb- peeled, chopped
-celery, 3 stalks chopped to 1/4" pieces
-dill pickles, 6 spears, diced (normally garlic, or try spicy!)
-ham steak, diced
-red bell pepper (or any colour), diced
-red onion, 1 onion, diced
-chives, chopped (about half a bunch)
-dill pickle juice, about 1/3 cup (or to taste)
-mayonnaise, 3/4 cup (or to taste)
-butter, 3 tbsp
-heavy cream, half and half, or milk- 1/3 cup
-dill (fresh or dried), 2 tbsp
-salt, 1 tsp (or to taste)
-cracked pepper, 1 tsp (or to taste)
-garlic, 1-4 cloves minced (to taste)
-shredded cheese, 1/2 cup (or to taste)
Method:
1. Wash and peel the potatoes, and chop them into smaller pieces. Place in pot of cold water with some salt and boil until potatoes are soft. Drain into a colander.
2. Mash the potatoes with butter, cream or milk, salt, pepper, and minced garlic. Set aside to cool down. 
PRO-TIP: following Step 2 will give you a smooth and creamy mashed potato base. If you'd like it to stay somewhat chunky, either boil them less before you mash, or keep some pieces aside in a different bowl while you mash and then stir them in afterwards.
3. Once potatoes are cool, add in celery, bell pepper, red onion, chopped dill pickles, and diced ham steak. Stir into potatoes.
4. Add in mayonnaise and dill pickle juice. If potatoes are not as smooth as you would like, or if the flavour is not dilly enough, add in more mayonnaise or dill pickle juice, respectively.
PRO-TIP: mayonnaise helps to give the potatoes a fluffier texture, and the dill pickle juice adds acidity to cut through the butter, cream/milk, and mayonnaise.
5. Add in dill, chives, and shredded cheese, and hard boiled egg if you would like. Mix lightly. 
6. Can be served chilled or warm. Flavour and textures develop after a few hours.