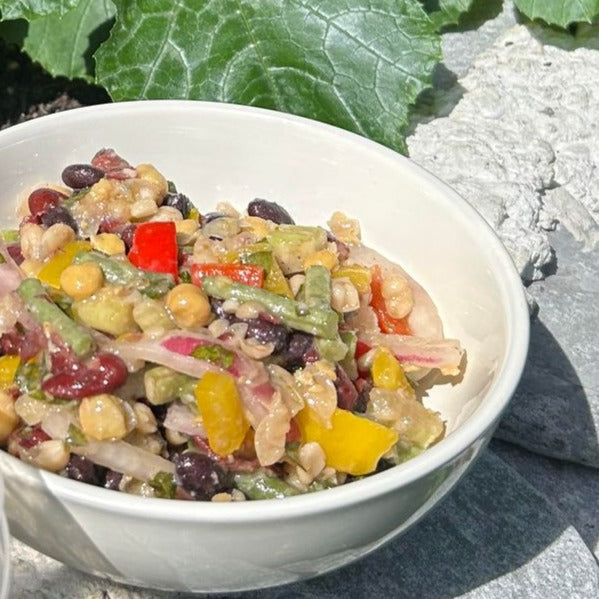 Summer Bean Salad- THE BBQ Side Salad
Brooke McArthur
This summer bean salad was a staple at every bbq my family had during the warm summer months (and sometimes during the winter as well!). The acidic vinaigrette mixed with the umami taste of the beans is a perfect pairing for barbecued and smoked meats, acting as a palate cleanser and balancer.
Salad Base Ingredients:
-red kidney beans, 1 can
-black kidney beans, 1 can
-chickpeas, 1 can
-navy beans, 1 can
-fresh green beans, 1 pound (or to taste)- can use any fresh string bean
-sliced red onion, or green onion (to taste)
-garlic, minced (to taste)
-bell pepper, chopped (any colour), 1-2 peppers
Optional: spice it up with some jalapeno peppers!
Salad Base Method:
1. Open cans of beans, pour into colander, rinse and drain. (if you prefer your beans softer, feel free to boil them slightly after rinsing. Allow to drain thoroughly).
2. Wash fresh green beans, chop into bite-sized pieces.
3. Combine onion, garlic, beans, and fresh green beans and bell pepper in a mixing bowl and put aside.
Vinaigrette Ingredients:
-oil, 1 cup
-vinegar (preferred: apple cider or red wine), 1 cup
-salt, to taste
-sugar, 1/3 cup
-fresh chopped parsley, basil, or oregano
Vinaigrette Method:
1. Whisk together oil, vinegar, salt, sugar, fresh pepper, and chopped herbs until combined.
2. Pour vinaigrette over salad base and mix.
3. Best served chilled, can also be served warm. To allow the flavours to develop, make the salad up a few days before you intend to serve it.
NOTE: stores in fridge for up to 3 weeks, and flavour develops more intensely over time.